International Workshop on
LAND USE PLANNING AND LAND ADMINISTRATION: INTEGRATION AND DECENTRALISATION
February 16-17, 2023,
Dhulikhel, Kavrepalanchowk, Nepal
Land Management Training Center, an ISO 9000:2015 certified organisation, under the patronship of the Ministry of Land Management, Cooperatives and Poverty Alleviation, Government of Nepal, is organizing an "International Workshop on Land Use Planning and Land Administration: Integration and Decentralization" from February 16-17, 2023 at its campus in Dhulikhel, Kavrepalanchowk, followed by a side event on February 15, 2023.
This event is being supported by multiple national and international organisations in different capacities. The international partner of the event is the Commission 7 of the International Federation Surveyors (FIG). The World Bank (WB) and the Korean Green Growth Trust Fund (KGGTF) have offered their support as the strategic partners. Similarly, Kadaster International (KI), the Netherlands, and the Faculty of Geoinformation Science and Earth Observation (ITC) of the University of Twente, the Netherlands, are the other two international partners of the event. Nationally, the Ministry of Agriculture and Live Stock Development (MoALSD); National Disaster Risk Reduction and Management Authority (NDRRMA), Survey Department (DoS), and the Department of Land Management and Archive (DoLMA), have extended their support. Additionally, professional organizations including, Nepal Institution of Chartered Surveyors (NICS) and Nepal Remote Sensing and Photogrammetric Society (NRSPS) have also offered their backing to the event. The Department of Geomatics Engineering of the Kathmandu University (DoGE-KU) is on board as the academic partner, and the Community Self Reliance Center (CSRC), Nepal, is partnering the event from the community-based organizations in the country.
A side /pre-event is being organized in collaboration with the KI and ITC on the topic "Masterclass on Land Management Integration and Decentralization."
The main objective of this event is to create a platform to share research, international practices and professional experiences at the intersection of the fields of land administration and land use planning, among the multidisciplinary attendees.  The aim is to get ourselves exposed to international knowledge and experiences on land use planning and land administration, and particularly with regards to integration and decentralization of those functions, in order to pave way forward for the same at home. This is all in the context of the Government of Nepal's move to implement land use planning across the country and future plans for decentralizing land administration services.
The secondary objectives of the event are as follows:
to foster collaborative relationships between national/international institutions, academics, and professionals for mutual benefit through knowledge sharing and technology transfer.
to develop a book on decentralized and integrated Land Use Planning (with reference to Land Administration) that is useful for Nepali context based on the papers presented in this event.
We have designed this event in such a way that it covers a wide range of topics and will serve as an ideal global networking platform by bringing together renowned professors, academicians, researchers, professionals and practitioners from around the globe. We encourage the presentations on the learnings from the real practices of land use planning and decentralization of land administration in different scenarios.
 Following are the major themes of the event
(A) Integrated Land Use Planning
Spatial Land Use Planning Tools
Integrated Land Use Planning
Urban Land Use Planning
Agricultural Land Use Planning
Forest Land Use Planning
Land Use Planning for Tourism
Land Use Planning for water bodies
Infrastructure Development and Land Use
Industrial Land Use
Climate change and land use planning
International Practices on Land Use Development
Education and Outreach on land Use Development
Disaster Risk Management and Land Use Planning
Mines and Land Use Planning
Health and Land Use Planning
(B) Decentralized Land Administration
Technical Issues of Decentralization of Land Administration
Institutional and Capacity Development in Land Administration
Innovations in Land Administration Technologies
Good Governance in Land Administration
Fit For Purpose Land Administration
Integrating Land Use Planning and Land Administration
Event Schedule
The detailed schedule of the event will be published later. Different slots for the event will be as follows: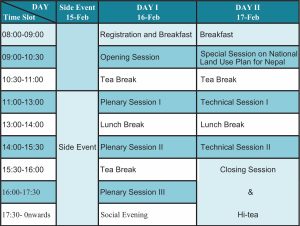 We are seeking sponsorship, through direct payment to relevant party, for travel costs and internal accommodation of international invitees, lunch, dinner and other accessories. Interested organisations can contact us in this regard.
Details about the event will be published soon.
Land Management Training Center
Dhulikhel, Kavrepalanchowk, Nepal
Phone: Phone: +977-011- 415055 / 51
Email: lupworkshop2023@gmail.com, info@lmtc.gov.np